Health & Safety
Lochard Energy is committed to providing a safe working environment for all personnel at our workplace. The Iona Gas Plant is a Major Hazard Facility and maintains a risk-based safety management system approved by WorkSafe Victoria. For more information on Site Safety, please click here.
Our health and safety performance
The safety record at the Iona Gas Plant is outstanding and demonstrates our strong safety culture. At Lochard Energy, we consider safety our number one priority and have set a target of zero significant incidents or near misses. This target is achieved through proactive and systematic management of risk and our continued commitment to health and safety.
In addition to personal safety, we treat process safety and asset integrity with the upmost of importance. We have a dedicated team of process safety professionals and a proud history of managing the risk of low likelihood, high consequence events.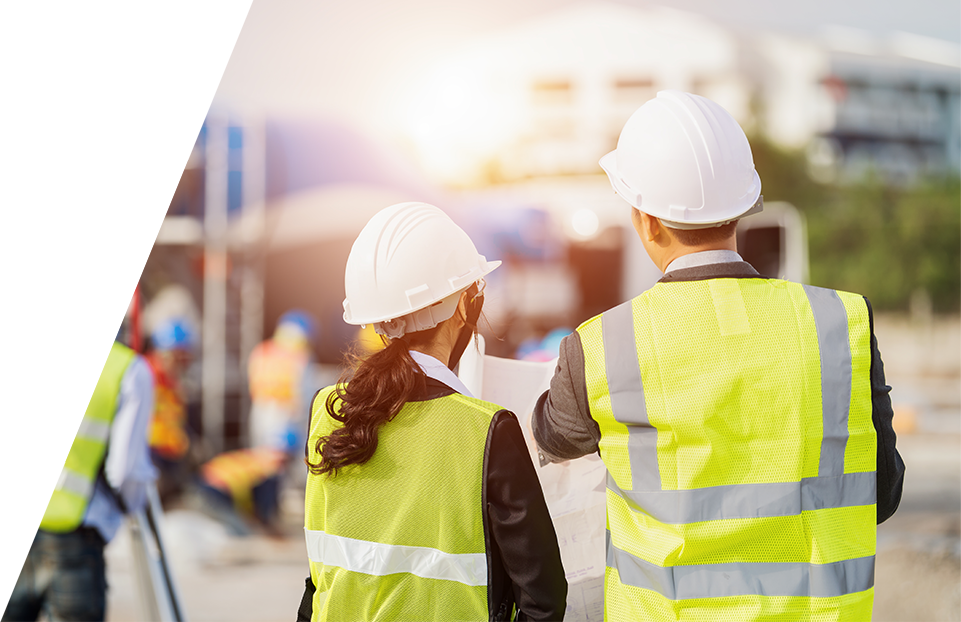 Environment
Lochard Energy recognises that responsibility and accountability for health, safety, social responsibility and environment lies with every executive, manager, employee and contractor. These responsibilities form an integral part of our leadership as well as management of all tasks throughout every level of our organisation.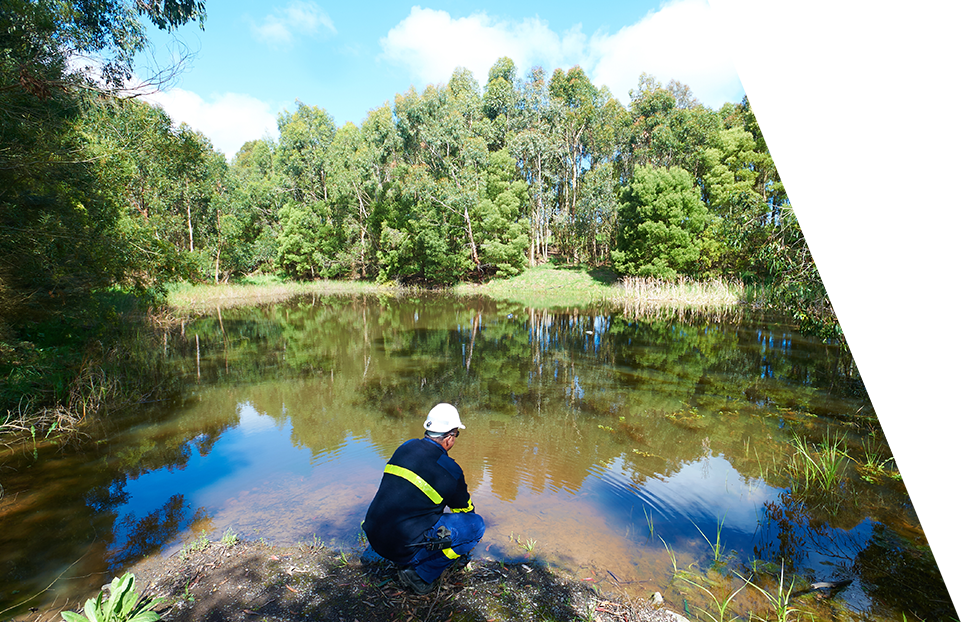 Our environmental performance
Lochard Energy has an integrated management system which guides stewardship of the operations and includes an Environmental Management Plan which is regularly reviewed and updated.
The Iona Gas Plant has been designed and constructed to minimise impact on the environment. Rainwater is captured and reused on site and no town or bore water is utilised. The water produced is reinjected under license into the Waarre formation reservoir for the purpose of aquifer recharge. Ground water sampling is conducted on a monthly and quarterly basis and an annual report surmising the findings is provided to Southern Rural Water.
Storm water from process areas is collected and any contaminants are separated and treated biologically in the primary holding ponds, which utilise vegetation as a natural filtration system. The treated water is then discharged into the wetlands system where other site surface water naturally drains. Discharge is monitored to ensure neighbouring dams are not affected and the results are reported tri-annually to the independently chaired Community Liaison Committee.
The monitoring of air emissions is conducted periodically throughout the year. Site emissions are measured using National Environment and Energy guidelines and reported to the government annually. Results can be accessed via the National Pollutant Inventory and National Greenhouse Energy Reporting websites.
A baseline study of flora and fauna and cultural heritage was conducted in 1998 as part of the site selection, prior to the development of the Iona Gas Plant site. Large numbers of native plantings have been made since the site was first developed, to improve the landscape and provide shelter to native fauna. Major corridor plantings were undertaken in 2000 and 2009 to establish a vegetation buffer.
Waste management is a focus at the Iona Gas Plant and a waste management plan is in place which focuses on segregation and recycling to reduce the quantity of landfill waste.
Community
Lochard Energy is committed to respecting and engaging our neighbours and the local communities we operate our sites and business responsibilities in.
Our community performance
Lochard Energy has an active stakeholder engagement program. All stakeholders and their interests in Lochard and our operations, are considered in the annual planning of our engagement program.
Emergency response exercises are regularly held at the Iona Gas Plant to ensure the site is prepared for an incident or emergency, which might impact the wider community. The exercise involves both local emergency services and our industrial neighbours for coordination and support.
Community sponsorship is a long-held tradition at Lochard Energy and our focus is on the community around Iona. The community initiatives we choose to support, align with our company values with the priority areas being education, health and wellbeing and community development.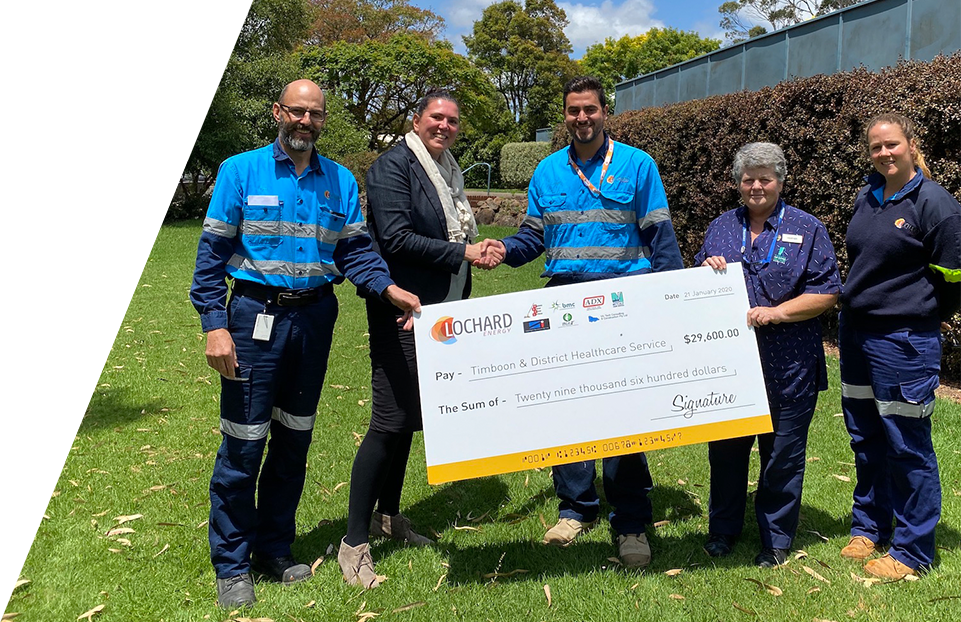 Sponsorship
Each year, Lochard Energy supports a number of organisations, schools, sporting clubs and events in Southwest Victoria. Our principles for giving are contained in our Stakeholder Management Plan and summarised below.
Lochard Energy will support activities that provide solutions to local challenges and opportunities in the communities around our operations and areas our employees live in. This is defined as being within a 50km radius of the Iona Gas Plant, which include the townships of Port Campbell, Peterborough, Warrnambool, Timboon, Camperdown, Colac, Simpson and Princetown. We view this as an essential and effective way to build sustainable and meaningful relationships with these communities for mutual benefit.
Lochard Energy places a strong emphasis on supporting initiatives which help local organisations develop the skills and resources to bring positive and lasting benefits to the community. We achieve this by providing funding and support that can make a difference without creating dependencies. We ensure that any organisation we support has plans to be financially and operationally sustainable in the long-term, without our support.
Lochard Energy will provide funding to initiatives in one or more of the following priority areas that are aligned to Lochard Energy's company values: The priority areas are:

Education which encompasses activities that support childhood, adult and indigenous specific education with a focus on STEM (science, technology, engineering and maths).
Health and wellbeing which encompasses all activities that support physical and mental health.
Community development prioritising the support for activities that enrich community life and enhance the social, environmental and economic sustainability of local communities.
Minimum Criteria for Support
All initiatives and organisations supported by our business, must meet the following minimum criteria:
Are reputable with a positive track record and solid governance

Are compatible with our company values
Be secular and predominantly concerned with providing services to the community
Not be affiliated with a political party
Be prepared to publicly acknowledge our support
If you have an initiative that meets the above selection criteria and would like to apply for sponsorship, please download the application form for sponsorship and email it to ionaenquiries@lochardenergy.com.au